New @ Gracies! Mix-N-Match items!
I am so excited to be adding some Mix-N-Match to the gracie girl line! These items are fun, flirty, and affordable! So lets start with the skirts!! Currently available in 2 lengths with a third knee length to be added, and 4 colors. Individually sold for $L110 each or in the four pack. There is a mini length and a midi length. And I think the belt is just OH SO cute!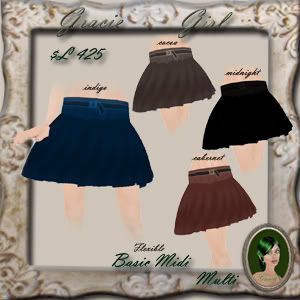 Next up is this perfect set of tanks! Sorry ladies but this one only comes in a pack of six, but at this price .. why not. I added a nice racer back styling to the straps in back, and some great pleats near the bust.. so this one can be worn under a shirt, jacket or by itself!
Ok so these next two are handpainted tops combined with the luscious mini... they are available for sale with the mini individually as seen below, or just as the tops in a two color pack for $L200!!
Last but certainly not least for this blog is Dolcissima, a VERY SWEET! lovely outfit... with a mid length flex skirt... and halter tie top and long sleeve shrug.
Remember all of Gracies outfits are MOD prim only/ No copy and YES trans! So have fun and make a gift of it!!