I'm a Gracie Girl!!
Welcome to the blog featuring the unique styles of Grace Winnfield. She creates for you a demure femininity that you can treasure forever! You can purchase the clothing featured here at Gracies store Gracie. http://slurl.com/secondlife/Gracie/128/128
Sunday, April 13, 2008
Spring Collection in the new store!!
Here are some glimpses! All of these are available now in the store....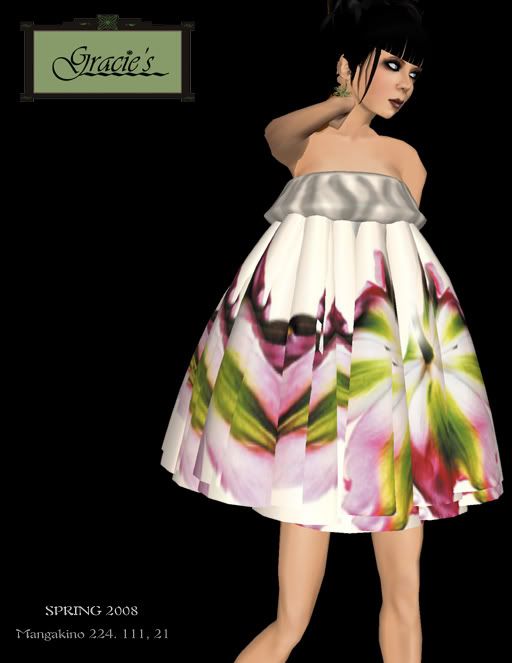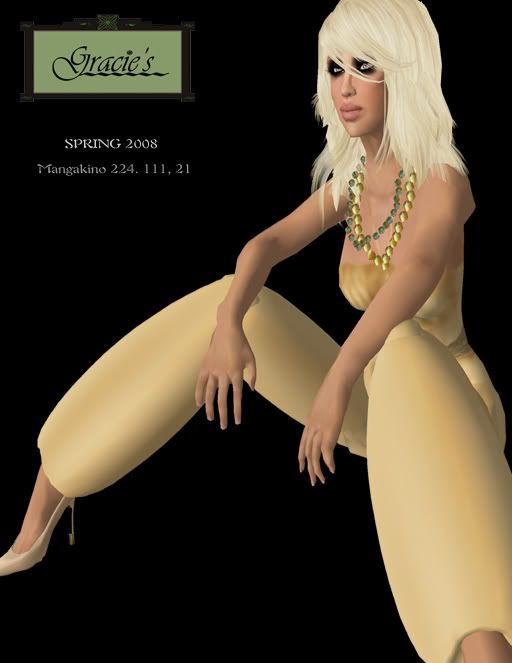 http://slurl.com/secondlife/Mangakino/224/128
Wednesday, April 09, 2008
Flamingo Romance is in the store!
All entered and ready to go! Here is the ad piccie...
http://slurl.com/secondlife/Mangakino/224/128
Tuesday, April 08, 2008
Flamingo Challenge!
Ok so my arm has been thoroughly twisted by what i have read on the fashion feeds! I LOVE love inspiration and this is tooooooo fun! I simply had to partake. So here is a preview of my creation modeled by two darlings.... Karla Marama and Mischha Boa.
This will be available in the store tonight (not till i get home from rl work..lol)but i wanted to tempt you all a little bit. These are both Sculpty and the formal is flexi as well... All will come in the same box.... 2 short skirt options (with and without the bow), and one formal long one that shows just a little leg as you walk! Each has been lovingly hand painted in a glorious flamingo pink! The bodice has a feathered look and the back dips to a deep V. I will repost later when they are in the store and I have officially submitted to the challenge.
Notice this is a new Landmark.. or you can use the lm in my profile under classifieds.
http://slurl.com/secondlife/Mangakino/224/128